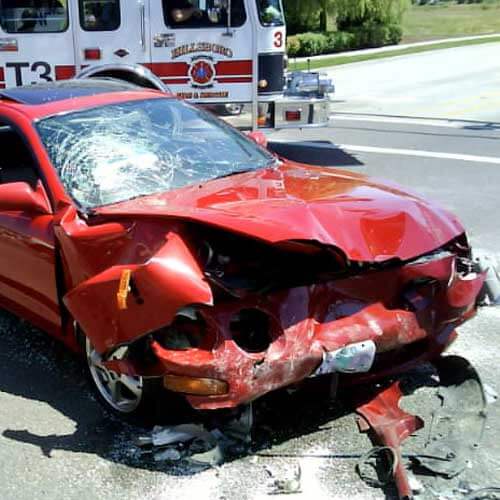 Why hire a Houston car accident lawyer?
The expense of a car accident injury can be devastating. Thus, it is vital that you hire the best lawyer available for your case. You want to hire a local lawyer that gives you the best chance for success. You want to hire a Houston car accident attorney that knows the local court houses and local mediators. Cliff Roberts is a native Houstonian. Cliff has an excellent track record in Houston. For the last 25+ years he has tackled and resolved hundreds of serious car accident cases right here in Houston.
Cliff believes that accident victims deserve compensation! As a result, Cliff commits to recovering maximum cash damages for these accidents. A majority of his cases will settle before trial. However, if a fair cash settlement is not offered, he may push for trial in an effort to force a fair payment from the insurance company.
Most importantly, Cliff will fight for as long as it takes until you get the justice you deserve.
Accidents can injure and kill.
Car accidents injure or kill thousands of motorists every year. Therefore, a victim may have every right to seek justice. You may also be able to file a claim for settlement before going to court.
Car accidents can result from many factors. Speeding, rollover, weather, cell phone usage, reckless driving, driver distraction are just a few. Also, carelessness, drugs, alcohol, defective products, poor crash worthiness, lack of sleep are others factors.
A Houston car accident attorney can also review accidents involving other types of vehicles.
Motorcycle Accidents

 put the motorcyclists at high risk of injury when a wreck occurs.

Truck Accident

 results can be devastating. Driver carelessness and reckless driving are common causes of accidents involving 18 wheelers.

Bus Accidents

 present several safety hazards in an accident. Due to their size and distribution of weight, they are at a high risk of rolling over in a crash. Unfortunately, most buses lack seat belts to protect their passengers.

Bicycle Accidents

 allow little protection when in a collision with a motor vehicle. Usually, the motor vehicle driver did not see the person on the bike.

Pedestrian Accidents

 usually happen in a crosswalk when the driver hits them. The force of the impact from a car often causes severe injuries.

Product Liability Accidents

 can be due to a defective car part. The manufacturer of the part may be responsible through a product liability claim.

Golf cart accidents

 can rollover or cause passengers serious injury. Many times passengers in golf carts suffer because of a driver's negligence. Unfortunately, many carts do not have seat belts.
There are three requirements to have a good case.
1) It must be clear that the at-fault driver caused the accident; and
2) Your injuries were from this accident; and
3) you must have incurred damages.
No car accident attorney in Houston can guarantee a recovery. Yet, money damages that we generally seek for accident victims are multiple. Car accidents
Damages may include:
Pain and suffering which includes compensation for the pain and serious discomfort you suffered during the accident and in its immediate aftermath. Also included is compensation for any ongoing pain that can be attributed to the accident.
Mental anguish which is usually linked to more serious accidents. These emotional distress damages are meant to compensate a personal injury plaintiff for the psychological impact of an injury that may include fear, anxiety, and sleep loss. Some states do consider mental anguish emotional distress as part of any "pain and suffering" damage that is awarded to a personal injury plaintiff.
Disfigurement which is an impairment of beauty or appearance which renders unsightly or deforms in some manner.
Impairment which is the state or fact of being impaired, especially in a specified faculty. "A degree of physical or mental impairment"
Loss of enjoyment when injuries caused by an accident keep you from enjoying day-to-day pursuits like hobbies, exercise, and other recreational activities, you may be entitled to receive "loss of enjoyment" damages.
Medical expenses associated with the accident which includes reimbursement for treatment you've already received and compensation for the estimated cost of medical care you'll need in the future as a result of the accident.
Loss of earnings which impacts your salary and wages — not just income you've already lost but also the money you would have been able to make in the future, were it not for the accident. In personal injury jargon, a damage award based on future income is characterized as compensation for an accident victim's "loss of earning capacity."
Loss of consortium typically relates to the impact the injuries have on the plaintiff's relationship with their spouse. For example, the loss of companionship or the inability to maintain a sexual relationship. Some states may also consider the separate impact on the relationship between a parent and their child when one is injured. In some cases, loss of consortium damages can be awarded directly to the affected family member rather than to the injured plaintiff.
Property loss for any vehicles, clothing, or other items that were damaged as a result of the accident. Included is reimbursement for repairs or compensation for the fair market value of the property that was lost.
Prejudgment and post judgment interest.
Punitive damages can be awarded when the responsible party acted with malice. In cases where the defendant's conduct is deemed particularly egregious or outrageously careless, a plaintiff may be awarded punitive damages on top of any compensatory damages award. The real goal of these kinds of damages is to punish the defendant for its conduct or to "hit them in the pocketbook." Punitive damages can act as a deterrent. However, several states have set some type of cap on punitive damage awards in personal injury cases. Catastophic injury.
DEADLINE?
The deadline for filing a car accident claim varies by State. It depends on the specific facts of each case. Most of all, a Houston car accident lawyer can help you protect your rights and inform you about your deadline. If you do not file your claim by the deadline, you may lose your right to recover any money. Cliff Roberts is the car accident lawyer in Houston that can tell you your exact deadline to file. Do I need a Houston car accident lawyer to assist me?
If you or a loved one has suffered injury or death please e-mail us the short case review form. The evaluation process is free and confidential.
Car accidents
Why Cliff Roberts and what do you deserve as our client?
You deserve to talk directly with attorney Cliff Roberts within 24 hours of submitting your Free Case Review Form.
You deserve an attorney that has successfully maintained responsibility for over 1000 injury or death claims.
You deserve an attorney that will never charge a fee unless a recovery or settlement is reached for you.
You deserve a persistent and determined attorney with over 25 years experience who is willing to do what it takes for your justice.